History
About Us
Milestones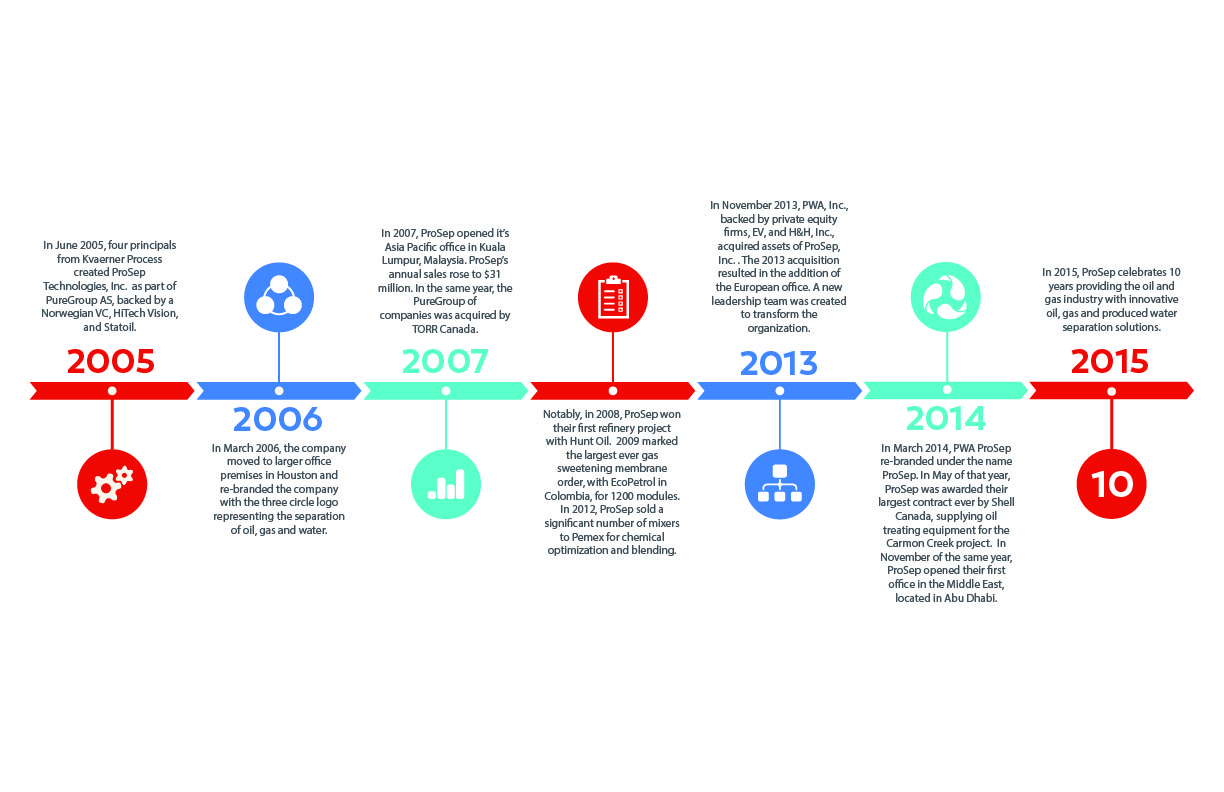 Since early 2016, ProSep's renewed focus on proprietary technology solutions, mixers and produced water treatment, has resulted in several exciting milestones.
Q3 2016: Osorb Media™ technology successfully completes a pilot scale demonstration for the removal of hydrocarbon contaminants and subsequent regeneration of media.
Q4 2016: ProSep is awarded the contract for the world's first ECLIPSE™ (ProDry) mixer application to be installed on the Troll B Platform, offshore Norwegian Continental Shelf.
Q1 2017: MAX+™ mixer technology is selected for commercial deployment for the first time in the onshore US market for crude treatment.
Q1 2017: MAX+™ technology is successfully tested in Canada for reduction of wash water usage during desalting of heavy crudes.
Q2 2017: Osorb Media™ technology solution is selected for its first commercial deployment to reduce BTEX in a 5000 BWPD system on an offshore platform.
Q3 2017: AIM™ and MAX+™ mixing technologies are selected for testing at two major oil refineries to reduce chemical and water usage.
Q3 2017: TORR™ technology is selected for testing by a major US independent oil company to economically treat produced water in the Permian basin.
Our Story
ProSep has been established for 10 years and has a prestigious history in the oil and gas industry.
In June 2005, four principals from Kvaener Process created ProSep Technologies, Inc. as part of PureGroup AS, backed by a Norwegian VC, HiTech Vision, and Statoil. By December of that year, the company had grown to 10 employees, and generated around $4 million in sales. In March 2006, the company moved to larger premises in Houston and re-branded the company with the three circle logo representing the separation of oil, gas and water. During this year, ProSep signed a supply agreement with a proprietary internals company and over the course of the next three years sold over $15 million of capital equipment with their internals.
In 2007, ProSep opened it's Asia Pacific office Read more
If you have any questions or would like to inquire about our products or services, please use this button to contact us.
Contact Us
Subscribe to our mailing list for news & updates about ProSep and our new era of process separation solutions.
Sign up now