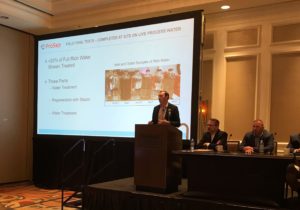 February kicked-off with another fantastic Produced Water Seminar. This year both Caleb Smathers and Greg Hallahan played an active part in the event chairing panel discussions on produced water management and water re-use.
Caleb also delivered a presentation on how ProSep's innovative Osorb Media System (OSM) can be used to efficiently remove BTEX from process water with a reusable adsorbent to increase the value of reclaimed methanol.
Click here for a synopsis of Caleb's presentation.