NEWS
Meet the Experts: Terry Lou, PhD Process Engineer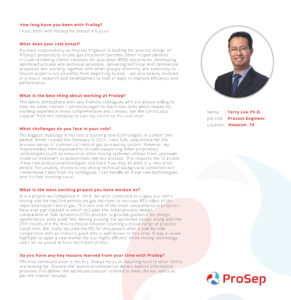 The driving force behind ProSep's success and its innovative solutions is undoubtedly its people. In our new 'Meet the Expert' feature, find out more about our team and their roles at ProSep.
How long have you been with ProSep?
I have been with ProSep for almost 4.5 years.
What does your role entail?
My main responsibility as Process Engineer is leading the process design of ProSep's proprietary oil and gas treatment systems. Other responsibilities include reviewing clients' requests for quotation (RFQ) documents, developing optimized process and technical solutions, delivering technical and commercial proposals and working together with other groups internally and externally to ensure projects run smoothly from beginning to end. I am also heavily involved in product research and development to look at ways to improve efficiency and performance.
What is the most exciting project you have worked on?
It is a project we completed in 2018. We were contacted to supply our inline mixing unit for LPG injection to increase BTU value of the vaporized liquid natural gas. This was one of the most comprehensive projects I have ever participated in which included the initial process design; computational fluid dynamics (CFD) analysis to provide guidance for design optimization; pilot scale field testing proving the optimized design along with the CFD results and the final technical solution covering a broad range of process conditions. We finally secured the PO for this project after a side-by-side competition with an industry giant who is well known in this area. It was a career highlight to open a new market for our highly efficient inline mixing technology and I am so proud to have been part of that.
Read Terry's full profile here!
If you have any questions or would like to inquire about our products or services, please use this button to contact us.
Contact Us
Subscribe to our mailing list for news & updates about ProSep and our new era of process separation solutions.
Sign up now