NEWS
ProSep is enhancing Ekofisk's water stream with a CTour produced water treatment package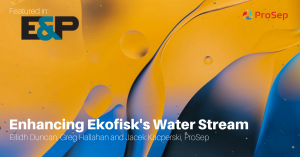 ProSep is enhancing Ekofisk's water stream with a CTour produced water treatment package, which uses existing gas condensate combined with ProSep's high-efficiency mixers to enhance oil and water separation.
Click here to read the feature article on E&P Magazine online and learn more on how successful pilot tests led to the installation of a full-scale system that is still in operation.
If you have any questions or would like to inquire about our products or services, please use this button to contact us.
Contact Us
Subscribe to our mailing list for news & updates about ProSep and our new era of process separation solutions.
Sign up now