NEWS
Project Update: Johan Castberg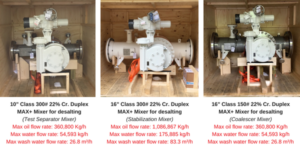 ProSep announced in January 2018 that it would supply (3) ProSalt units to Statoil Petroleum (Statoil) for the Johan Castberg field development project, located on the Norwegian continental shelf in the Barents Sea. The Johan Castberg project was notably the biggest offshore oil and gas development in 2017, with an estimated cost of approximately NOK 49 billion. The ProSalt technology with MAX+ mixers will provide Statoil with efficient usage of wash water and chemicals, while also providing an opportunity to reduce injection volumes of both ProSep's mixers have been designed and fabricated to desalt the oil by mixing it with injected wash water in two different stages as follows: first stage – downstream of inlet/test separators, and second stage – downstream of stabilization separator. Our team has had tremendous success in executing the project's lifecycle and we're pleased to share that it was completed on time and within budget! in comparison to conventional mixing technologies.
If you have any questions or would like to inquire about our products or services, please use this button to contact us.
Contact Us
Subscribe to our mailing list for news & updates about ProSep and our new era of process separation solutions.
Sign up now