NEWS
ProSep Featured in Journal of Petroleum Technology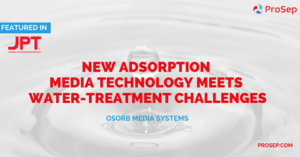 Featured in the Journal of Petroleum Technology, Caleb J. Smathers, Tommie Jackson, Scott Buckwald, Raul Gonzalo and Ryan McPherson speak to some of the challenges that today's operators are facing with produced-water management. Fortunately, new water treatment technologies and developments in conventional treatment methods offer a means to solve these problems in managing produced water volumes.
Click on the image  to read the full article!
If you have any questions or would like to inquire about our products or services, please use this button to contact us.
Contact Us
Subscribe to our mailing list for news & updates about ProSep and our new era of process separation solutions.
Sign up now