NEWS
In the News with ProSep — below are some of our latest updates!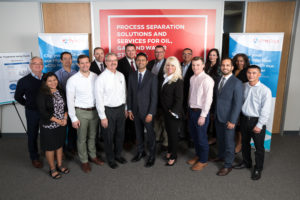 A note from our CEO, Mahesh Konduru: "ProSep had a productive semiannual strategy session in Houston Oct. 15-18, 2018. The session kicked off with an inspirational keynote by Patrick Connelly, Partner at Intervale Capital, where he discussed his background and the keys to building a top quality "Team in the Oilfield." After three days of high-quality presentations (Caleb Smathers won the Best Presentation Award) and whiteboard discussions, the team emerged energetically on the prospects for the last quarter of 2018 and 2019. While 2018 saw the penetration of our mixer products into two new regions and two new applications, 2019 and 2020 appear to be promising for a significant ramp-up of adoption with clients looking for efficiency and low maintenance plants.The delivery of our first Osorb Media System (OMS) in 2018 has set a solid foundation for several new opportunities to help clients meet their produced water treatment needs in 2019 and 2020."
If you have any questions or would like to inquire about our products or services, please use this button to contact us.
Contact Us
Subscribe to our mailing list for news & updates about ProSep and our new era of process separation solutions.
Sign up now