NEWS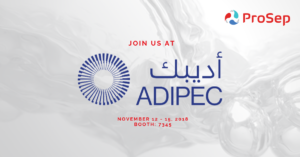 Join us at ADIPEC from Nov. 12 – 15, 2018 at the Abu Dhabi International Petroleum Exhibition & Conference, booth #7345. We're thrilled to discuss on all of our proprietary mixing technologies and introduce our newest product, the eCLIP (Efficient Compact Lightweight Injection Port).
If you have any questions or would like to inquire about our products or services, please use this button to contact us.
Contact Us
Subscribe to our mailing list for news & updates about ProSep and our new era of process separation solutions.
Sign up now