NEWS
Meet the Expert: Nicole Miles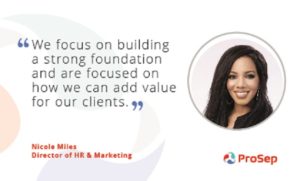 Nicole Miles, our Director of HR and Marketing, has a hugely diverse role as her job title suggests.  Find out what challenges she faces in her role and more about the most exciting project she has worked on.
How long have you been with ProSep?
I have been with ProSep for 5 years.
What's the best thing about working at ProSep?
Our employees! They embody the definition of teamwork.
Through hardship and success, we focus on building a strong foundation and remaining focused on how we can add value to our clients.
Click here to read Nicole's full profile.
If you have any questions or would like to inquire about our products or services, please use this button to contact us.
Contact Us
Subscribe to our mailing list for news & updates about ProSep and our new era of process separation solutions.
Sign up now