NEWS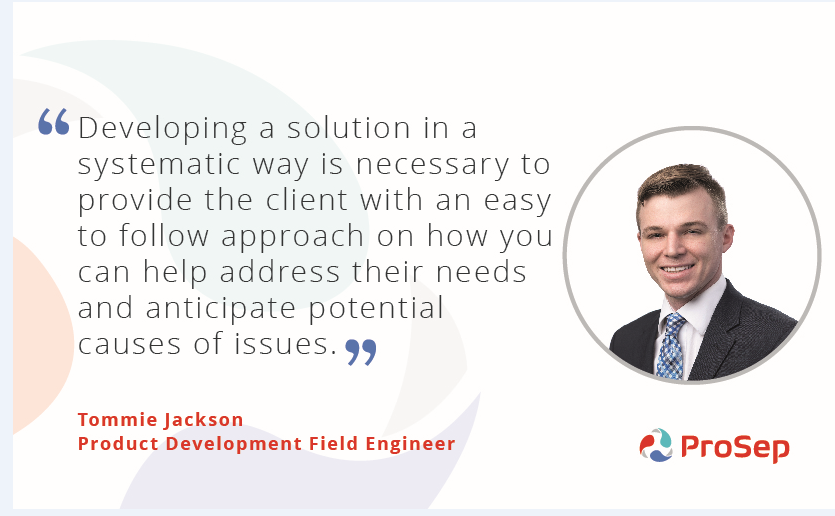 Meet the Expert: Tommie Jackson!
Next up as part of our meet the expert profile series is Tommie Jackson.  Tommie joined ProSep in 2017 as a Product Development Field Engineer and is responsible for the "hands-on" product development data generated in-house and in the field for ProSep's unique technologies.
What's the best thing about working at ProSep?
There is never a dull moment working for ProSep, and I have quickly been able to gain experience performing several different roles during my short time here. This has provided me with a more well-rounded knowledge base as I am actively involved in the processes beginning with the product's proof of concept and sales, to ensuring it meets ProSep's high quality standards when it reaches the end-user and maintaining these standards when optimization and/or service is needed.
Do you have any key lessons learned from your time with ProSep?
Nothing is perfect, and issues will always arise as variables change. How you respond to this adversity is key because people love a problem solver. Staying calm, being attentive to the client's needs, processing the data carefully, and developing a solution in a systematic way is necessary to provide the client with an easy to follow approach on how you can help address their needs and anticipate potential causes of any issues.
Read Tommie's full profile here.
If you have any questions or would like to inquire about our products or services, please use this button to contact us.
Contact Us
Subscribe to our mailing list for news & updates about ProSep and our new era of process separation solutions.
Sign up now