NEWS
ProSep Diversification Accelerates – High-Efficiency Mixer Sale in Australasian Market in Power Plant Supply Chain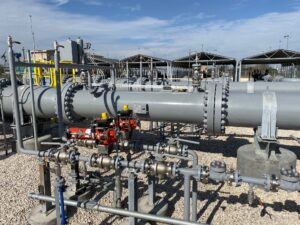 ProSep, a global environmentally-friendly solutions provider aiming to reduce chemical usage and provide safe and clean water, has recently secured a six-figure sale from an Australasian natural gas straddle plant, to re-inject a condensate stream into natural gas feed to a power plant.
ProSep is committed to helping the global industrial segment achieve its environmental stewardship goals. One of company's proprietary technologies, the Annular Injection Mixer (AIM), is a key product that significantly reduces the environmental impact during the handling of liquid and gaseous hydrocarbons.
John Sabey, ProSep's CTO said: "It is rewarding to see the natural gas midstream processing industry so eagerly embrace a technology proven in other applications.  The first application for conditioning an LNG facility feed gas has been in operation for over a year with excellent results.
"Now we have two additional systems due to be operational in Australasia this year.  Once clients understand the exquisite simplicity of the unit and evaluate its CFD (computational fluid dynamics) simulated performance, the solution seems to "sell" itself."
AIM has been developed to provide a more efficient mechanism for injection and dispersion of liquids in gas streams than atomizers, injection quills or static mixers.  The unique design provides a lower pressure drop, higher turndown (of both phases) and improved performance. This results in energy savings, lower maintenance and smaller systems; all factors contributing to a reduction in environmental footprint when compared with other solutions.  The technology provides similar benefits for liquid-liquid and gas-liquid systems.
One of today's challenges for the conventional energy industry is to maintain profitability, safety and environmental governance during the transition to renewables. With a portfolio of environmentally friendly proprietary products, ProSep has installed over 200 high-efficiency mixers globally, saving thousands of tonnes of Green House Gas emissions, and continues to work with some of the world's largest companies, providing them with a rapid return on investment.
If you have any questions or would like to inquire about our products or services, please use this button to contact us.
Contact Us
Subscribe to our mailing list for news & updates about ProSep and our new era of process separation solutions.
Sign up now