NEWS
ESG and Green House Gas benefits help secure multi-million-dollar Middle East contract for ProSep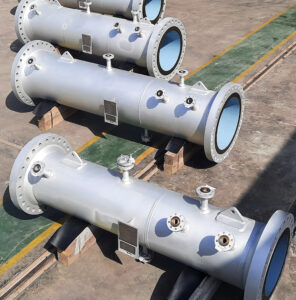 ProSep, a global environmentally friendly solutions provider aiming to reduce chemical usage, save and clean water, has recently secured a multi-million-dollar contract with a leading Middle East based operator, to deploy high-efficiency mixers.
This recent contract, which will see ProSep provide ten (10) of its Annular Injection Mixers (AIM) at the operator's gas and oil separation plants, is scheduled to be completed, delivered and installed by Q3 of 2021. The high-efficiency mixers will be installed in the crude oil production headers, to allow for better water in oil separation, corrosion handling and scale inhibition.
ProSep, which is headquartered in Houston, Texas, has always placed sustainability high on its agenda and is well-positioned to help the global industrial community achieve its environmental stewardship goals, as it increases the focus upon a wide range of Environmental, Social and Governance (ESG) objectives. ProSep's solutions assist in this respect by facilitating a reduction in greenhouse gas emissions (GHG) via lower chemical consumption, a decrease of waste in crude production and produced water treatment, and the removal of harmful contaminants from the environment. With this deployment, ProSep estimates that the operator will benefit from GHG reductions of >550 tonnes per year.
ProSep's AIM high-efficiency mixers have previously been proven to reduce demulsifier chemical injection by at least 25% while helping maintain the desired crude outlet specifications. In addition, the implementation of these high-efficiency mixers has allowed for improved water quality, reducing the oil-in-water concentrations by up to 50%.
Raul Gonzalo, ProSep's Middle East Sales and Service Manager said: "In the midst of the current pandemic we have continued to focus on delivering for our Middle East clients while emphasizing our intent to help the industry reach their own environmental goals, and this order brings the total number of high-efficiency mixers awarded to 23 over the last 12 months – a record number of units since operations began in the region.
"We are excited about the opportunities that 2021 will bring.  We have a number of active enquiries for our Multiphase Adjustable Xtreme (MAX+) mixers, which offer unique integrated injection and mixing capabilities which deliver homogenous mixing of multiphase flows with low pressure drop. At a time when companies are looking to become ever more financially and environmentally efficient, our technologies offer our clients sustainable solutions, which align with their strategic goals."
With a portfolio of environmentally friendly proprietary products, ProSep has installed over 200 high-efficiency mixers globally, saving thousands of tonnes of Green House Gas emissions, and continues to work with some of the world's largest companies, providing them with a rapid Return on Investment (ROI).
If you have any questions or would like to inquire about our products or services, please use this button to contact us.
Contact Us
Subscribe to our mailing list for news & updates about ProSep and our new era of process separation solutions.
Sign up now