NEWS
ProSep's Multiphase Adjustable Xtreme Mixer (MAX+)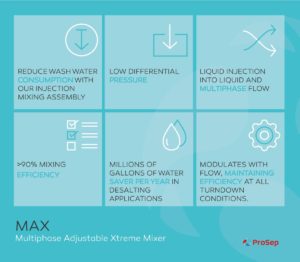 Our Multiphase Adjustable Xtreme Mixer (MAX+) technology offers homogenous, high efficiency mixing which can be utilized for desalting, chlorination, demulsifier injection and scavenging.
For more information, click here.
If you have any questions or would like to inquire about our products or services, please use this button to contact us.
Contact Us
Subscribe to our mailing list for news & updates about ProSep and our new era of process separation solutions.
Sign up now