NEWS
ProSep's ProSalt system produces impressive results for Saudi Aramco
Oil, gas and water process separation specialist ProSep's ProSalt ™ technology brings great operational benefits by delivering:
1) vastly reduced fresh water consumption
2) improved dehydration performance
3) lower pressure drop
4) less oil in water with their Desalter.
ProSep's ProSalt system has been primarily installed in upstream crude desalting applications, although the technology has also been employed in downstream refineries as well. The injector / mixer system generates a homogeneous wash water droplet flow over the pipe cross-section in combination with a pressure drop that is lower than conventional mixing methods, while controlling shear forces. This achieves an improved oil-water separation with less emulsion.
Most recently, ProSep was awarded a contract for the supply of one of its patented ProSalt units to Saudi Aramco in the Arab Gulf region.
The 20″ ProSalt™ wash water injection and mixing system will be installed at an onshore facility upstream of the Desalter vessel. The ProSalt™ unit will replace the existing globe valve and static mixer, with delivery expected by end of Q2 2014.
ProSep first provided the NOC with the ProSalt mixer system for trials in 2008. A team of engineers was tasked with testing the ProSalt system at Shedgum GOSP-4 and results of the trial were very impressive.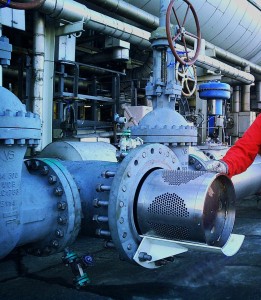 The team reported:
• The differential pressure across the new valve decreased by more than 50 percent, from 15 psid to 7 psid.
• The wash-water consumption rate was reduced by 40 percent, from 50 gallons per minute to 30 gpm, saving more than 10 million gallons of wash water per year in one facility alone.
• Oil-in-water content from the desalter was reduced by more than 60 percent, from 18 parts per million to 7 ppm.
• The salt content remained within specifications throughout the test.
Through this success at Shedgum GOSP-4, the operator is expanding the use of the ProSalt technology which has the demonstrated potential to save millions of gallons of wash water a year, helping to conserve one of the Arab Gulf region's most precious natural resources.
Traditional mixing valves often consume large quantities of wash water and chemicals. The ProSalt unit helps to preserve valuable water supplies. The robust, flanged spool piece replaces the conventional static mixer and mixing valve with a novel inline injection and mixing assembly.
It requires minimum maintenance, has a high turndown ratio, and provides unobstructed flow conditions while providing efficient mixing of various production chemicals and dilution water used in the desalting process.
ProSep is an industry leading provider of integrated process separation solutions to the global oil and gas industry.
The company is headquartered in Houston, USA with operations in Europe, Middle East and Asia Pacific and delivers an unparalleled portfolio of full lifecycle technologies, products and services to treat oil, natural gas and water. This diverse and exceptional offering allows operators to enhance performance, reduce costs, manage process streams and meet stringent legislative and environmental demands.
ProSep's ambitious expansion plans are underway to strengthen its position and drive growth in key oil and gas markets in North and South America, the Middle East, Europe and Asia Pacific
If you have any questions or would like to inquire about our products or services, please use this button to contact us.
Contact Us
Subscribe to our mailing list for news & updates about ProSep and our new era of process separation solutions.
Sign up now