NEWS
ProSep launches with new Houston Headquarters following acquisition
27 March 2014, Houston, Texas: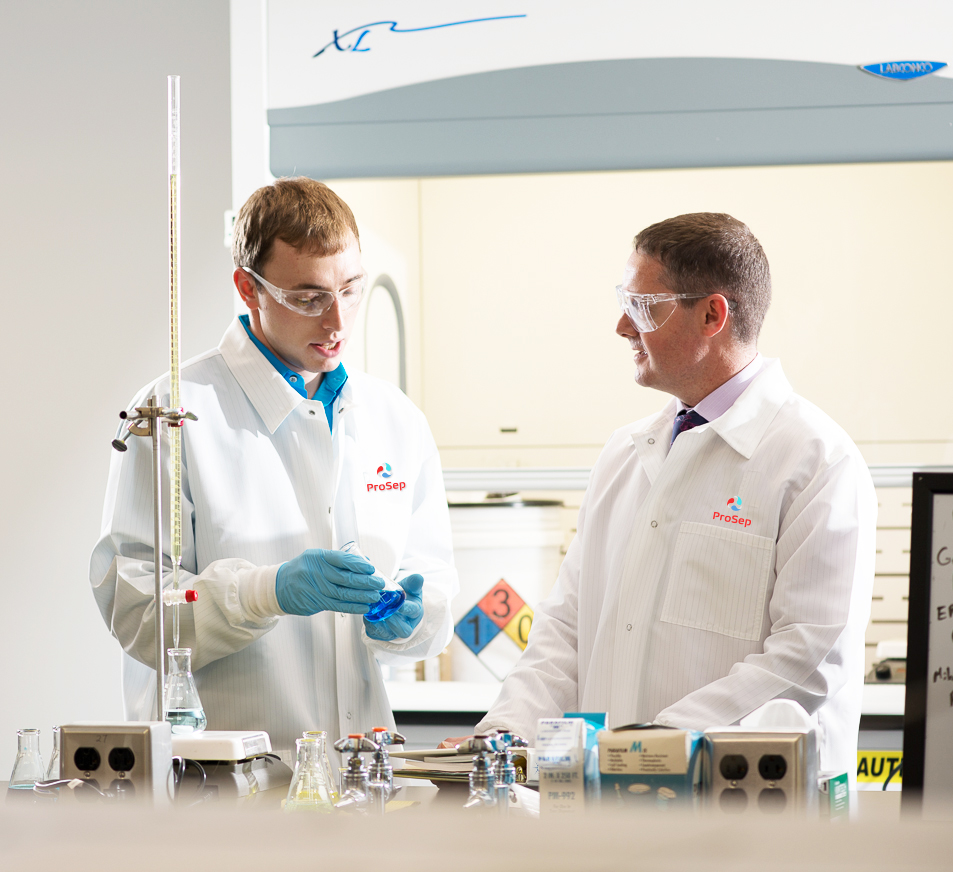 Neil Poxon, CEO, ProSep (right) and Caleb Smathers, Technical Service Chemist, ProSep (left) in the new state of the art ProSep laboratory in Houston.
Following its acquisition by PWA Inc., the new combined entity, ProSep, is re-launching with a new brand identity and vision. The oil, gas and water process separation specialist is also investing over $2 million in new headquarters and laboratories in Houston, TX.
The company is preparing for significant growth and has secured $13.5 million of global contracts so far in 2014.
It has invested in two new sites totalling 28,000 sq ft on Northwest Place Industrial Park, featuring offices, a state-of-the-art laboratory and a warehouse. Employees are moving into a purpose built building on Bingle Road this week with executive offices on nearby West Little York Road to open in July. The company also has operations in the UK and Malaysia and employs over 95 people.
ProSep is the industry-leading technology and services provider of integrated process separation solutions to the global oil and gas industry. It has developed a lifecycle range of technologies to help operators manage their process streams, enhance performance and meet strict regulatory requirements, a growing challenge for the industry.
The company is looking to expand its global operations in key regions including North America, South America, the Middle East, Europe and Asia Pacific.
Neil Poxon, CEO of ProSep said: "The launch of our new headquarters and brand identity signals a bold new era for ProSep in which we intend to grow and cement our position as the global leader for oil, gas and water separation. We are off to a fantastic start this year with $13.5 million global contracts secured.
"Our innovative technologies solve critical challenges the industry faces in processing oil, water and gas streams. Our focus going forward is on building our global presence and enhancing our offering by developing a service business to meet industry needs."
A global recruitment drive is underway, with the company having already hired 13 new staff including engineers, business development managers and support staff.
Levey Group, the developer and landlord of Northwest Place, hired KMR Construction as the contractors for the new building with Bruce Ciloski leading the laboratory construction which was designed by Lab Design of New Jersey.
If you have any questions or would like to inquire about our products or services, please use this button to contact us.
Contact Us
Subscribe to our mailing list for news & updates about ProSep and our new era of process separation solutions.
Sign up now